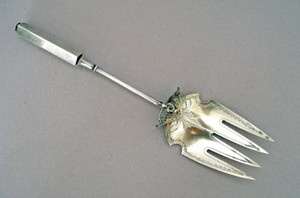 Here is a cool piece that I just acquired!
It is a cold meat fork in Gorham's
Isis
pattern.
Isis was created c. 1870 by their head designer George Wilkinson.
1869 saw the opening of the Suez Canal, at the time one of man's greatest modern achievements.
The world was intrigued by Egypt and demand for objects in the Egyptian taste was high.
In response to this demand, Gorham released numerous silverwares reflecting the artifacts of Ancient Egypt and the flatware pattern Isis was one of them.
Today
Isis
is very rare and highly collected.
This piece has a rectangular handle end that terminates with a button. The handle is round and looks a little like a lotus plant in bud. Connecting the functional end of this piece with the handle is a intertwined cobra with vulture wings. This is the traditional symbol representing the Egyptian goddess Wadjet who was the protector of pharoh and the patron goddess of Upper and Lower Egypt.
Her symbol can be seen atop Pharaoh's crown in depictions of pharaoh.
To my knowledge, most
Isis
serving pieces have gold gilding on the serving ends ― the blades, the spoon or the tines. As one might expect, over time the thinly applied gold does wear off of these antique pieces that have experienced much use and polish over one hundred years.
Remnants of the gold plating are visible on this cold meat fork.